Information
abime.net is copyright 2001-2017 by Astruc Pierre, also known as RCK.
Readers may not modify, publish, transmit or in any way exploit any of the contents of this site, in whole or in part, without the express prior permission of the copyright holder. Direct comments to the appropriate person. All rights reserved.
New Game Released - Crazy Priest
Posted by
aszu
- Yesterday
15:30
]
The game's development started in Spring 2015, when Sordan made decision to learn Amos programming language. I (aszu) have joined him, creating graphics and, consequently, this projected evolved into simple game. Shortly afterwards we were able to show first playable demo. At one point a musician (JMD) joined our team and at the Retrokomp/Loaderror 2015 party we have released first official playable demo.
Two years later, and at Retrokomp/Loaderror 2017 party, we have released full game! It has been long time but we have managed to finish it and the game was ranked 3rd in the Game Dev Compo.
There are two modes: single player, consisting of 16 levels and multiplayer (2 players only) with 8 additional levels.
Requirements:
68020+2MB RAM
Credits:
programming: Sordan
gfx : aszu
msx: JMD
Game is freeware.
YOU TUBE TRAILER
GAME DOWNLOAD
PROJECT PAGE
10 comments
Voyager from VaporWare released under GPL
Posted by
Locutus
- 19 October 2017
08:15
The old Web Browser Voyager by VaporWare has been released under the GPLv3
A nice piece of history preservation here and there is quite some curious stuff in the code such as support for running on CaOS the AmigaOS-clone for the Met@Box/PIOS, which i never knew if it ever got up to the point of working.
However, don't get your hopes up that someone can update this to a 'modern browser' :-)
grab it from here:
https://zapek.com/software/voyager/
9 comments
LAG Bookings Confirmed for 2018.
Posted by
rockape
- 18 October 2017
22:57
Hi,

LAG Bookings Confirmed for 2018.

After delivering a letter by hand a few days ago requesting dates for our LAG meetings to be held in "The Welton Room" in the "Welton Village Hall" next year I received a txt *confirming* the dates today as follows.
LAG 58 Saturday 3rd of February.
LAG 59 Saturday 7th of April.
LAG 60 Saturday 2nd of June.
LAG 61 Saturday 4th of August.
LAG 62 Saturday 6th of October.
LAG 63 Saturday 1st of December.
Please keep you're eye's peeled on
http://lincsamiga.org.uk/wordpress/
for any changes etc.
On a personal note, I would like to start LAG at 12PM ending at 5PM again as we used to because my conditions have worsened a bit so I'm finding it difficult to make it to the venue at 11AM which we currently do.
Anyone who finds this change difficult please EMail me.
Regards, Michael aka rockape
IBrowse 2.5 to be demoed at AmiWest and Amiga32
Here's some info from the official IBrowse 2.5 site:
IBrowse 2.5 is breaking cover... Some of you may be lucky enough to see it being demo'd at the upcoming AmiWest and Amiga32 shows. Obviously we realise not everyone can get to these shows, so we have added a summary of the news here. Screenshots and more details will follow at a later date.
To get the bad news out of the way first, IBrowse 2.5 isn't available yet, and is unlikely to be in 2017. However, we are working hard on finalising things for release, including making keys available for purchase again, to coincide with the 2.5 release. Originally, IBrowse 2.5 was supposed to mainly be the OS4 port of IBrowse 2.4, but obviously many years have since passed and many other changes have been made.
Summary of the new features:
OS4 Native Version Added (OS4.1 Final Edition Required)
AmiSSL v4 Support
MUI 4.0 and 5.0 Support
Alpha Channel Support (OS4)
4Gb+ File/Downloads (OS4)
OpenSearch Support
Summary of the re-written features:
TextEditField Text Editor
Disk Cache Clean Up
Summary of the improved features:
JavaScript Engine
HTML Engine
HTTP Engine
Password Manager
Cookie Support
Various GUI Elements
Internal Image Decoders
Memory Management
Bug Fixes
Source:
http://www.ibrowse-dev.net/ib25-news.php
1 comments
MUIbase Released
MUIbase
(Magic data BASE with User Interface) is a relational, programmable database with graphical user interface for Windows, Mac, Linux and Amiga. MUIbase is open source software distributed under the terms of the GNU General Public License (GPL).
MUIbase 4.0 OS3/OS4/MOS
:
Download
1 comments
AminetReadme
Aminet Readme Creator OS3/OS4
Features:
- Supports the new Aminet .readme format (including Architectures field)
- Partial OS4Depot .readme support in the .readme loader
- ReAction GUI with Locale support
- Program window can be snapshotted ("snapshot" button in titlebar)
- This .readme file has been created using this program :-)
Window dimensions can also be modified by editing the main.size file by hand.
AminetReadme OS3 v.1.11
Download
AminetReadme OS4 v.1.11
Download
Finnish Amiga Users Group's Saku 2017 Event on September 30th
Posted by
jPV
- 26 September 2017
17:33
Finnish Amiga Users Group holds its 10th Saku event in Oulu, Finland on Saturday, September 30th.
The event will feature many classic Amiga setups from A500 to A4000, FPGA computers like Minimig and MIST, and next generation systems from MorphOS machines to AmigaOne X5000.
Daniel Müßener provided fresh development versions of upcoming
Tower 57
and
Wings Remastered
games for the event, news from the MorphOS front will be presented, the
Viva Amiga: The Story of a Beautiful Machine
documentary film will be shown on a big screen, and the latest
Amiga Future
magazines are available for reading. Sensible World Of Soccer tournament and other game competitions will be organized too.
Admittance is free of charge and refreshments will be available. Saku 2017 will start at 14:00 on September 30th at Oulun Tetra ground floor conference room at Mäkelininkatu 31.
Please visit the users group's website at
http://saku.bbs.fi
for more information.
Welcome!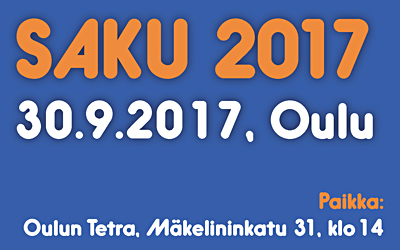 6 comments
GrafX2 Released!
New version of GrafX2 drawing program for OS3 dedicated to pixelart and low-color graphics. This program is dedicated to everybody who knows what a single pixel is. Its layout is not very different from the famous Deluxe Paint or Brilliance.
GrafX2 2.5WIP
Download
6 comments
StoWaSta Released
StoWaSta
: Stop Watch with Statistics a stop watch program with a few simple statistical evaluation functions (calculation of mean and median of the measured times), data can get exported as html file (.html). The program supports English (default) or German (when detected as system language); vailable for many operating systems, Amiga OS3 68k, AROS x86, MorphOS, Windows and Android, on the download page you will find all the other info.
StoWaSta v0.7:
Download all verson
1 comments
Pintor Web
Pintor Web:
is a program freeware and portable creates with Hollywood 7.0 for AmigaOS 3.x, AmigaOS 4.x, MorphOS 2.x-3.x, WinXP, WinVista, Win7-8-10 and for 32 and 64 bits available in the next languages: Spanish, English, French, Italian, German.
Pintor Web is an easy program to handle your pictures to use on your web pages projects or you need a fast and easy tool to edit them, the options availables are:
- Desktop snapshot.
- Rotate 90º, 180º, 270º.
- Mirror.
- Changing of size by percentage by pixels width and height.
- Grey Filter.
- Negative/Unnegative Filter.
- Sepia Filter.
- Black and White Filter.
- Sepia 60-70 years style Filter.
- Sharpen Filter.
- Mark.
- Add your watermark or logo.
- Add Text watermark, to write your url for example.
- AutoText watermark.
- Undo/Redo.
- And handling your pictures:
Change among formats (bmp, jpg, lbm, png), delete, rename, copy, make drawer.
Pintor Web v2.20 All version
Download
A/NES Pro v1.19 released
Posted by
oRBIT
- 27 August 2017
21:15
For the first time in about 2 years, here's a new version of "A/NES Pro" for high-end classic 68k Amigas!
Previous version had a fatal bug (looks like a compiler issue with Asm-Pro and the problem vanished with Asm-One) and I've fixed a few other issues aswell.
If you're interested, feel free to check out my website at
http://nes.goondocks.se
1 comments
Harem Challenge [Cubo CD32] - Playable on Amiga CD32 and emulators for first time!!!
Posted by
DamienD
- 26 August 2017
20:17
Heya guys,
Some excellent news... finally the 2nd "Cubo CD32" game has been patched and is now playable on an "Amiga CD32" console or via emulation
Many thanks for the details on what to patch must go to the man
ross
So, following the vital information in this
post
, I've now undertaken the following:
Downloaded the "haremchl.chd" file for MAME.
Used "chdman.exe" to extract ".BIN & .CUE" files.
Used "HxD.exe" to find / patch the specified area.
Buttons are as follows:
RED: Leave starting postion.
BLUE: Retreat back to starting position.
GREEN: Shoot bullets.
FORWARD: Insert coins.
For now, grab the game from
here
but will probably also upload onto the EAB File Server for preservation
19 comments